View Section in Publication :: Return to Overview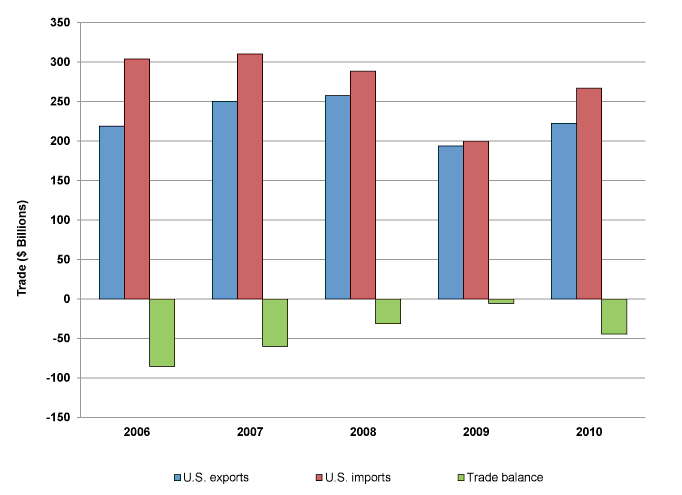 Key Economic Trends
Trade in transportation equipment increased as the North American economy began to recover. Lower-interest financing and the increasing capacity of consumers to assume auto loan debt contributed to higher demand and thus increased North American motor vehicle production, leading to greater trade in parts, and increased imports of motor vehicles.
Trade in aircraft, spacecraft, and related equipment trails the overall economic recovery. While orders for new aircraft have increased, the actual production and export of new aircraft will lag behind the orders by 18 to 24 months because of the long lead time required to construct an aircraft.
Motor vehicles and motor vehicle parts accounted for 69 percent of imports and 36 percent of exports of transportation equipment in 2010. Canada and Mexico remained the largest trading partners, accounting for 36 percent of U.S. exports and 44 percent of U.S. imports in 2010, because of the integrated nature of those industries in North America.
Trade Shifts from 2008 to 2009
U.S. trade deficit: Increased by $38.8 billion (678 percent) to $44.5 billion
U.S. exports: Increased by $28.3 billion (15 percent) to $222.4 billion
U.S. imports: Increased by $67.1 billion (34 percent) to $266.9 billion
Selected Product Shifts
USITC Publications
Other Government Resources
Other Resources