View Section in Publication :: Return to Overview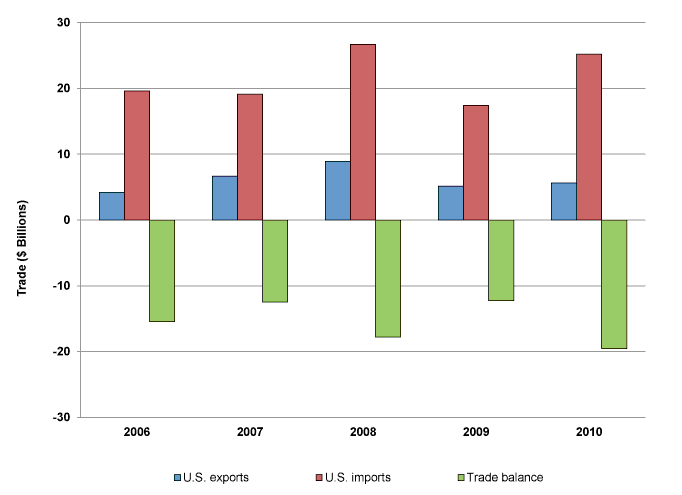 Key Economic Trends
The overall increase in commodity prices, especially prices for petroleum products, was a major factor in the rise of the U.S. trade deficit with Russia in 2010.
U.S. exports to Russia increased in all but one major industrial sector. The sole exception was a decline in exports of agricultural products, which was primarily due to a decline in exports of poultry by $447 million (58.6 percent). Poultry exports declined because of a Russian phytosanitary regulation that went into effect January 1, 2010, that prohibited certain U.S. chicken exports during the first half of 2010. The United States and Russia negotiated a resolution to the phytosanitary issue, but exports did not resume until the last quarter of 2010.
Energy-related products accounted for 72 percent of imports from Russia and the largest increase in imports for all sectors. Increases in the price of crude petroleum and petroleum products (31 percent and 43 percent, respectively) accounted for most of the increase in the value of U.S. imports.
Trade Shifts from 2009 to 2010
U.S. trade deficit: Increased by $7.3 billion (59 percent) to $19.5 billion
U.S. exports: Increased by $0.5 billion (10 percent) to $5.7 billion
U.S. imports: Increased by $7.8 billion (45 percent) to $25.2 billion
Other Government Resources