View Section in Publication :: Return to Overview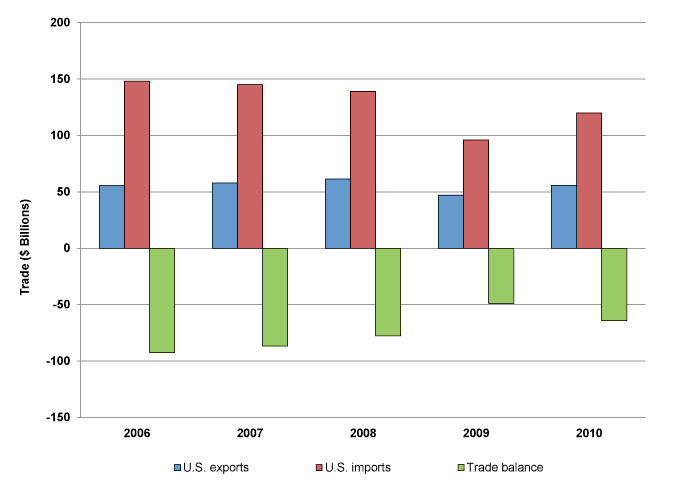 Key Economic Trends
The U.S. trade deficit with Japan widened to $64.2 billion in 2010, as growth in imports outpaced growth in exports. Japan remained the United States' fourth-largest trading partner.
U.S. exports to Japan increased by 18 percent to $55.7 billion during 2009-10, with all industry sectors contributing to the growth. The principal factors in this increase were growth in personal consumption in Japan, rising Japanese production, rising capital investment by businesses, higher Japanese demand for medical devices and pharmaceuticals, regulatory changes in Japan, and price increases in various energy-related products. The rise in the value of the yen relative to the U.S. dollar likely also spurred U.S. exports.
U.S. imports from Japan increased by 25 percent to $119.9 billion, owing to higher U.S. consumer demand, greater U.S. manufacturing production and demand for inputs, and rising capital expenditures in industries such as semiconductor manufacturing.
Trade Shifts from 2009 to 2010
U.S. trade deficit: Increased by $15.3 billion (31 percent) to $64.2 billion
U.S. exports: Increased by $8.7 billion (18 percent) to $55.7 billion
U.S. imports: Increased by $23.9 billion (25 percent) to $119.9 billion
Other Government Resources