View Section in Publication :: Return to Overview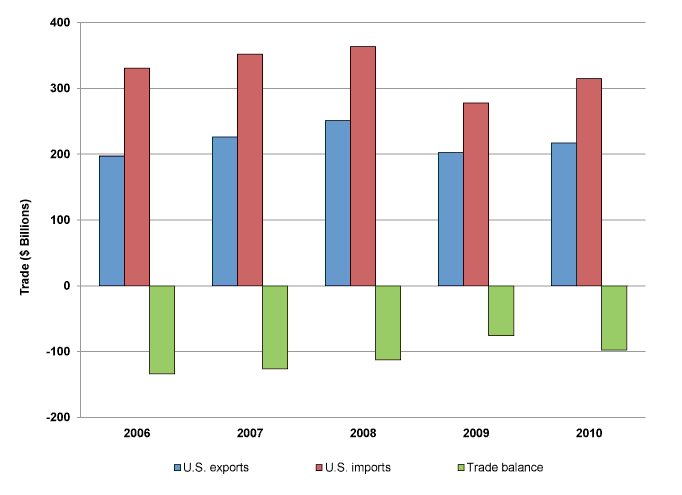 Key Economic Trends
After four consecutive years of contraction, the U.S. trade deficit with the European Union (EU) increased by 29 percent to $97.6 billion in 2010 as total merchandise trade between the two partners increased by 11 percent.
U.S. exports to the EU were driven by the modest rise in the growth rate of the European Gross Domestic Product (GDP), which was accompanied by rises in private consumption and business investment. Although U.S. exports in most product sectors grew, exports in two categories — chemicals and related products and minerals and metals — accounted for 55 percent of the total growth in U.S. exports. Certain energy-related products also saw strong U.S. export growth, while exports of transportation equipment (largely aircraft-related) registered the biggest decline.
In 2010, U.S. imports from the EU rose by 13 percent to $314.9 billion, although they remained below the peak level of $363.7 billion reached in 2008. Imports in virtually all product sectors grew, with transportation equipment, chemicals and related products, minerals and metals, energy-related products, and electronic products accounting for nearly 84 percent of the growth in 2010. The largest absolute increases in U.S. imports from the EU in 2010 were in the transportation equipment and chemicals and related products sectors.
Trade Shifts from 2009 to 2010
U.S. trade deficit: Increased by $21.8 billion (29 percent) to $97.6 billion
U.S. exports: Increased by $14.9 billion (7 percent) to $217.3 billion
U.S. imports: Increased by $36.8 billion (13 percent) to $314.9 billion
Other Government Resources