View Section in Publication :: Return to Overview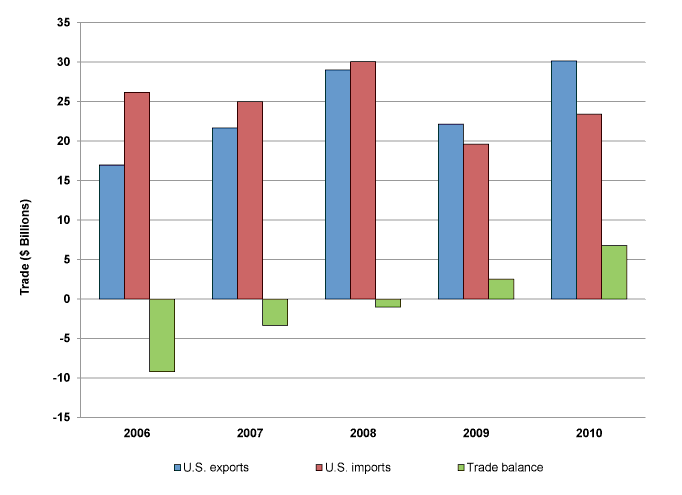 Key Economic Trends
The U.S. trade surplus with Brazil grew by $4.2 billion (168 percent) to $6.8 billion in 2010. Most of the growth in bilateral trade was accounted for by increased U.S. exports of refined petroleum products, coal, and chemicals to feed Brazil's rapidly expanding industrial sector and higher U.S. imports of crude petroleum and intermediate goods for U.S. industrial consumption.
Energy-related products and the chemicals and related products sectors led the increase in U.S. exports to Brazil in 2010, which benefitted from Brazil's economic expansion and currency appreciation against the U.S. dollar during 2008-10.
The appreciation of the Brazilian real against the dollar caused Brazil's exports to become relatively less price competitive in the U.S. market and contributed to the slower growth in U.S. imports from Brazil. The largest increases in U.S. imports from Brazil in 2010 were in crude petroleum, wood pulp, and coffee.
Trade Shifts from 2009 to 2010
U.S. trade balance: Increased by $4.2 billion (168 percent) to $6.8 billion
U.S. exports: Increased by $8.0 billion (36 percent) to $30.2 billion
U.S. imports: Increased by $3.8 billion (19 percent) to $23.4 billion
Other Resources