View Section in Publication :: Return to Overview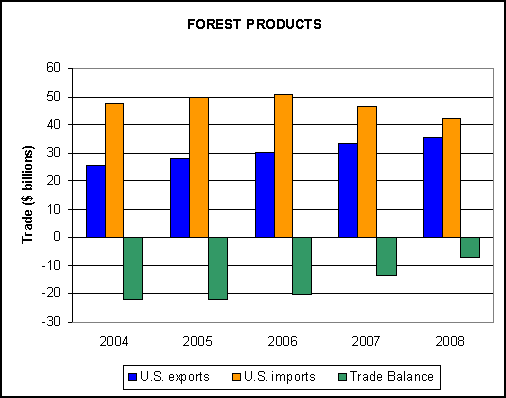 Key Economic Trends
The U.S. trade deficit in forest products declined by nearly one-half in 2008, as exports increased and imports decreased. The continued deterioration in the U.S. residential housing market was an important factor in this trend.
U.S. imports of lumber, wood veneer and wood panels, and moldings, millwork, and joinery declined sharply in 2008, as weakness in the housing market reduced demand and prices for these products.
U.S. exports of forest products rose by 7 percent, driven primarily by increased exports of wood pulp and wastepaper and industrial papers and paperboards.
Canada is the largest U.S. trading partner in forest products, followed by China, Mexico, and Japan. These four countries accounted for 40 percent, 14 percent, 8 percent, and 3 percent, respectively, of total U.S. trade in forest products in 2008.
Trade Shifts in 2008 from 2007
U.S. trade deficit: Decreased by $6.5 billion (49 percent) to $6.9 billion
U.S. exports: U.S. exports: Increased by $2.3 billion (7 percent) to $35.4 billion
U.S. imports: Decreased by $4.3 billion (9 percent) to $42.3 billion
USITC Publications
Other Resources