View Section in Publication :: Return to Overview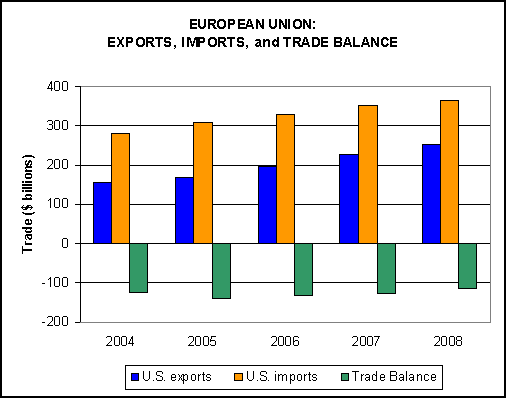 Key Economic Trends
The U.S. merchandise trade deficit with the EU declined for the third consecutive year, by 11 percent in 2008, while total bilateral trade between the United States and the EU increased by 6 percent. The EU was the third-largest regional market for both U.S. exports and U.S. imports in 2008, after Asia and Latin America. Nearly one-quarter of all U.S.-EU trade reportedly comprises intrafirm transactions between the two markets.
Nearly three-quarters of the increase in U.S. exports to the EU is attributable to increased exports of energy-related products (principally distillate and residual fuel oils), chemicals and related products (principally medicinal chemicals and biodiesel products), and transportation equipment. Increased exports in these sectors are a product of increases in world prices for crude petroleum, growing demand for pharmaceuticals and biodiesel products, and the success of U.S.-built, German-brand motor vehicles in Germany.
Virtually all of the increase in U.S. imports from the EU was attributable to increased imports of chemicals and related products and energy-related products. Increased imports of medicinal chemicals reflects the greater availability of generic pharmaceuticals in the U.S. market; medicinal chemicals were generally imported from related parties in the EU.
Trade Shifts in 2008 from 2007
U.S. trade deficit: Decreased by $13.5 billion (11 percent) to $112.5 billion
U.S. exports: Increased by $24.9 billion (11 percent) to $251.2 billion
U.S. imports: Increased by $11.5 billion (3 percent) to $363.7 billion
Other Government Resources
U.S. Central Intelligence Agency
World Factbook
U.S. Department of Energy, Energy Information Administration
Country Analysis Brief - Europe
U.S. Department of State
Regional Topics - European Union
Europa, Gateway to the European Union
Economic and Financial Affairs
External Trade