View Section in Publication :: Return to Overview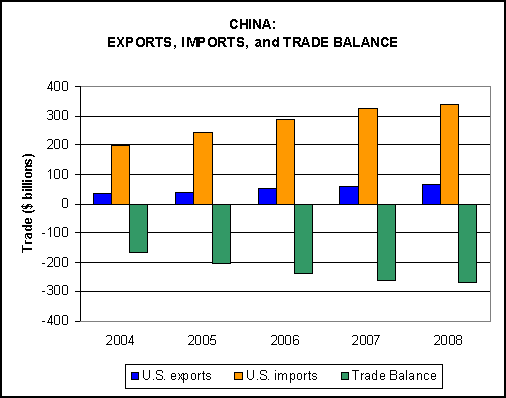 Key Economic Trends
While the growth of U.S. exports to China continued to outpace the growth of U.S. imports in 2008, the U.S. trade deficit with China increased by 3 percent to $270.3 billion. For the second consecutive year, China was the single-largest source of U.S. imports and the third-largest market for U.S. exports.
Agricultural exports, primarily soybeans, accounted for over one-half of the overall increase in U.S. exports to China in 2008, due to the rising global prices of agricultural commodities.
Manufacturing, particularly by foreign-based enterprises engaged in processing trade, has been the driving force behind China's export-oriented economy in recent years. Chinese operations have become increasingly integrated into global production chains by supplying relatively low-wage labor for the final assembly of products.
Industry/commodity groups contributing most to the $14.4 billion (5 percent) increase in U.S. imports from China in 2008 were television receivers and video monitors; steel mill products; organic specialty chemicals; toys and games; and coal, coke, and related chemical products.
Trade Shifts in 2008 from 2007
U.S. trade deficit: Increased by $8.3 billion (3 percent) to $270.3 billion
U.S. exports: Increased by $6.2 billion (10 percent) to $67.2 billion
U.S. imports: Increased by $14.4 billion (5 percent) to $337.5 billion
Other Government Resources
U.S. Central Intelligence Agency
World Factbook:China
World Trade Organization
Trade Policy Review--China
Peoples Republic of China
Ministry of Commerce
Ministry of Foreign Affairs, Office of North America and Oceania
U.S. Department of Commerce
China Business Information Center: US Government Resources for Exporting to China
Office of China Economic Area