View Section in Publication:: Return to Overview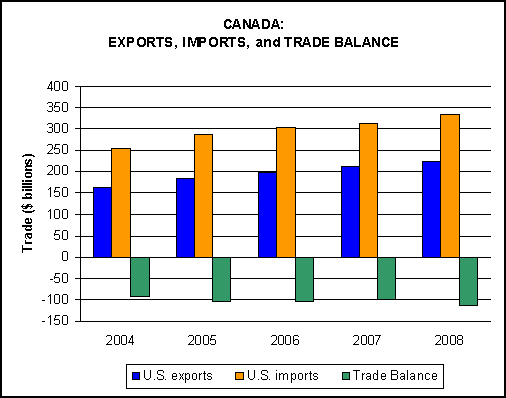 Key Economic Trends
The U.S. trade deficit with Canada increased by 13 percent in 2008 after declining in 2007. Although U.S. exporters in some sectors benefitted from a relatively depreciated U.S. dollar against the Canadian dollar for most of the year, the value of imports increased at a much faster rate.
Nearly one-half of bilateral trade between the United States and Canada in 2008 occurred within two sectors—energy-related products (23 percent) and transportation equipment (23 percent).
The rise in crude petroleum prices led to a 44 percent increase in the value of total bilateral energy-related products trade, increasing the U.S. energy products deficit by 39 percent in 2008. Bilateral trade in motor vehicles and components declined substantially, by 13 percent, due to the effect of the economic downturn on the auto industry.
Trade Shifts in 2008 from 2007
U.S. trade deficit: Increased by $13.0 billion (13 percent) to $112.4 billion
U.S. exports: Increased by $9.3 billion (4 percent) to $222.4 billion
U.S. imports: Increased by $22.3 billion (7 percent) to $334.8 billion
Other Government Resources