View Section in Publication :: Return to Overview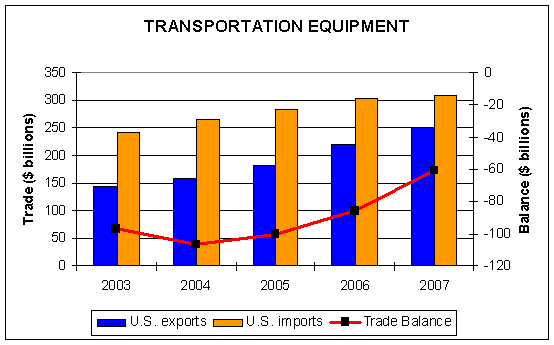 Key Economic Events
Gains in U.S. exports of transportation equipment far exceeded gains in U.S. imports in 2007, resulting in a 29 percent decline in the U.S. trade deficit in the sector. Transportation equipment trade with Canada and Japan (major export markets for U.S. motor vehicles) accounted for over one-quarter of the improvement in the trade deficit.
All product groups within the transportation equipment sector contributed to the increase in U.S. exports. Increased demand for air travel abroad, foreign airlines' fleet renewal and maintenance, and depreciation of the U.S. dollar against the Canadian dollar and the euro contributed to the rise in U.S. transportation equipment exports.
Despite increased U.S. imports of aircraft and related equipment, aircraft engines, and certain motor vehicles, U.S. imports of transportation equipment were less significant than U.S. exports due largely to fewer imports of construction and mining equipment as the U.S. economy slowed.
Motor vehicles, construction and mining equipment, and certain motor vehicle parts showed the largest value increases in U.S. imports.
Trade Shifts in 2007 from 2006
U.S. trade deficit: Decreased by $25.2 billion (29 percent) to $60.5 billion
U.S. exports: Increased by $31.1 billion (14 percent) to $249.4 billion
U.S. imports: Increased by $5.9 billion (2 percent) to $309.9 billion
USITC Publications
Other Resources