View Section in Publication :: Return to Overview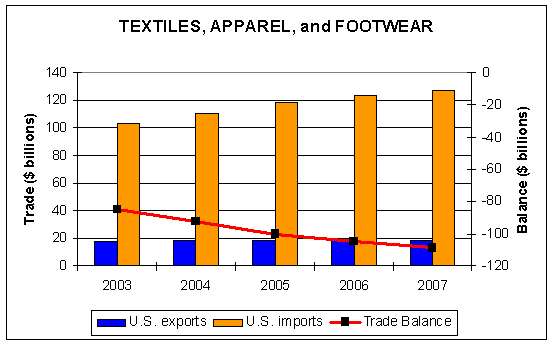 Key Economic Events
The U.S. merchandise trade deficit in textiles and apparel increased in 2007. Textile and apparel trade continued to be effected by the elimination of quotas in January 2005. The U.S. trade deficit in footwear increased slightly in 2007 as consumer spending on footwear rose largely due to increased consumption of low performance athletic footwear and skateboard shoe categories.
Nearly one-half of U.S. exports of textiles and apparel were destined for Latin American markets. Exports primarily consisted of fiber, fabric, and yarns for production of finished apparel products destined for export back to the U.S. market. Despite low-cost competition in Asia, Latin American markets remained competitive due to shorter shipping and transit times and because of preferential treatment under NAFTA and DR-CAFTA.
U.S. imports of textiles and apparel increased as U.S. retailers and apparel companies continued to increase sourcing from offshore providers, especially lower-cost Asian suppliers, following the elimination of quotas in January 2005. China remained the largest foreign supplier, but U.S. imports of textile and apparel from Vietnam rose by 35 percent due largely to the lifting of quotas on Vietnamese articles following that country's accession to the WTO in January 2007.
Trade Shifts in 2007 from 2006
USITC Publications
Other Government Resources
Other Resources