View Section in Publication :: Return to Overview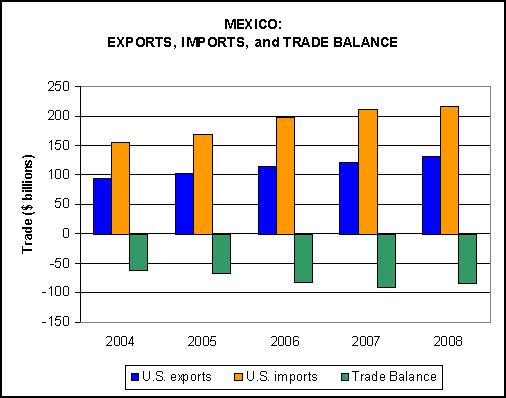 Key Economic Events
The U.S. merchandise trade deficit with Mexico increased by 10 percent as U.S. imports continued to outpace U.S. exports. The growth in bilateral trade was largely the result of the depreciation of the U.S. dollar and strong economic growth in Mexico in 2007. A large share of bilateral trade is accounted for by intrafirm transfers and other foreign-based manufacturers' foreign direct investment (FDI).
U.S. exports to Mexico benefitted from continued economic growth and preferential NAFTA access. Leading U.S. exports to Mexico were agricultural goods, transportation equipment and energy-related products. Sectoral exports increased because of preferential NAFTA access and price advantages for agricultural products, limited petroleum refining capacity in the United States, and increased demand for automotive parts for production of Big-3 OEM motor vehicle for re-export to the United States.
U.S. imports from Mexico benefitted from its continued growth as a manufacturing center for North America due to its geographic proximity and relatively cheap labor force. Automakers increased foreign direct investment in Mexico for production of motor vehicles and related parts to serve the North American market. Leading U.S. imports from Mexico include electronic products, transportation equipment, and energy-related products.
Trade Shifts in 2007 from 2006
U.S. trade deficit:Increased by $8.3 billion (10 percent) to $90.8 billion
U.S. exports: Increased by $4.8 billion (4 percent) to $119.4 billion
U.S. imports: Increased by $13.1 billion (7 percent) to $210.2 billion
Other Government Resources