View Section in Publication :: Return to Overview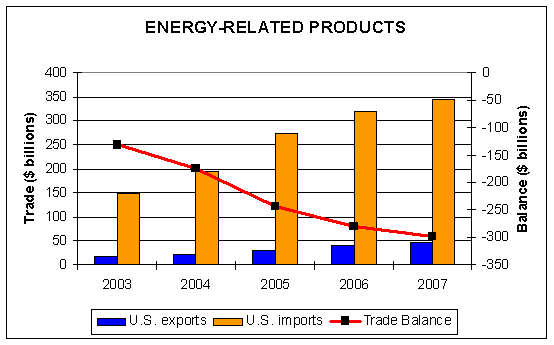 Key Economic Events
In 2007, the overall U.S. trade deficit in energy-related products rose primarily because of increased prices for crude petroleum. The United States is a major world producer and consumer of petroleum products but is not a leading world exporter as U.S. refineries are generally geared toward supplying the domestic market.
The rise in crude petroleum prices in 2007 is attributable to continued tight supplies on the world market. Increased global demand, (particularly in China and India), production cuts by OPEC members, and labor unrest in Venezuela and Nigeria contributed to price levels in 2007.
Natural gas prices declined in 2007, while U.S. export volumes increased 14 percent to 822 billion cubic feet and U.S. import volumes increased 12 percent to 4.6 trillion cubit feet.
Coal prices remained relatively stable in 2007, while U.S. exports increased by 20 percent reaching 59 million short tons and U.S. imports remained constant at 36 million short tons.
Trade Shifts in 2007 from 2006
U.S. trade deficit: Increased by $18.0 billion (6 percent) to $298.2 billion
U.S. exports: Increased by $7.7 billion (20 percent) to $46.7 billion
U.S. imports: Increased by $25.7 billion (8 percent) to $344.8 billion
Other Government Resources