View Section in Publication :: Return to Overview
Exports, Imports and Trade Balance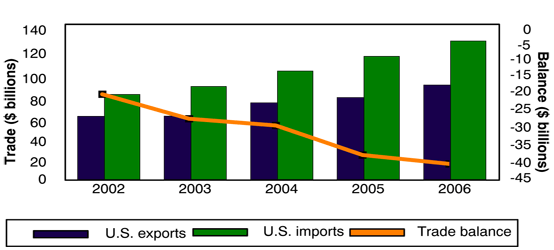 Key Trends
The U.S. merchandise trade deficit in machinery continued to increase for the fifth consecutive year in 2006, reaching $44.0 billion, as the increase in imports again outpaced growing exports. The primary growth driver in the machinery trade deficit continued to be annual U.S. growth in GDP of 3.3 percent, which resulted in increases in both durable goods orders and manufacturers inventories.
Exports increased by 15 percent to $94.6 billion, with semiconductor manufacturing equipment accounting for one quarter of the increase. The three markets for which U.S. machinery exports increased in 2006 were China, Korea, and Italy, together accounting for 39 percent of the increase. Rapidly expanding domestic economies and strong business machinery replacement demand, primarily from the United States and Germany, were the primary drivers in exports in 2006.
For the second consecutive year, the largest increase in U.S. imports of machinery was in major household appliances. U.S. imports of these products from Mexico increased largely as a result of U.S. and Korean appliance firms continuing to expand production-sharing or assembly plants for re-export to the United States.
Trade Shifts in 2006 from 2005