This site provides analysis, data, and information resources showing competitive aspects of U.S. merchandise trade trends on a country and sector basis.
Exports, Imports and Trade Balance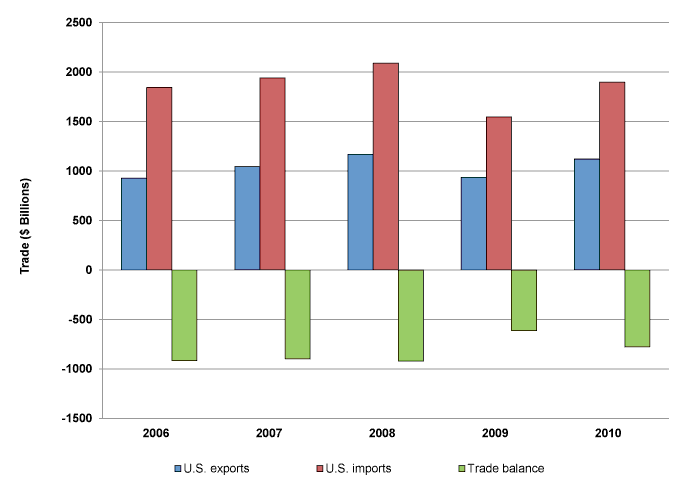 Key Economic Events
In 2010, the U.S. merchandise trade deficit rose 27 percent to $164.1 billion as U.S. export growth outpaced the increase in U.S. imports. Heightened U.S. exports principally reflected an upturn in the global economy, while U.S. import gains were driven by three sectors in particular: energy-related products, electronic products, and transportation equipment.
In addition to the global economic recovery and resulting increased foreign demand, the $185.4 billion (20 percent) growth in U.S. merchandise exports can also be attributed to the 3.5 percent depreciation, on average, in the value of the U.S. dollar against the currencies of major trading partners from 2009–10.
The 23 percent ($349.4 billion) increase in U.S. imports stemmed primaily from gains in the price of various energy-related products such as crude petroleum, along with greater U.S. consumption of motor vehicles and mobile electronic devices, such as tablet computers.
In 2010, the U.S. merchandise trade deficit increased with each of its top five trading partners, including the European Union, Canada, China, Mexico, and Japan. Collectively, these countries accounted for 78 percent of the total U.S. merchandise trade deficit.
China remained the single largest source of U.S. imports by value, expanding the already sizable trade deficit between the two countries in 2010; the $278.3 billion deficit with China was the largest one with any U.S. trading partner.
Trade Shifts from 2009 to 2010
U.S. trade deficit: Decreased by $164.1 billion (27 percent) to $776.5 billion
U.S. exports: Increased by $185.4 billion (20 percent) to $1,122.1 billion
U.S. imports: Increased by $349.4 billion (23 percent) to $1.898.6 billion
About this Report
Publication No. 4245
Investigataion No. 332-345
Date: August 2011