View Section in Publication :: Return to Overview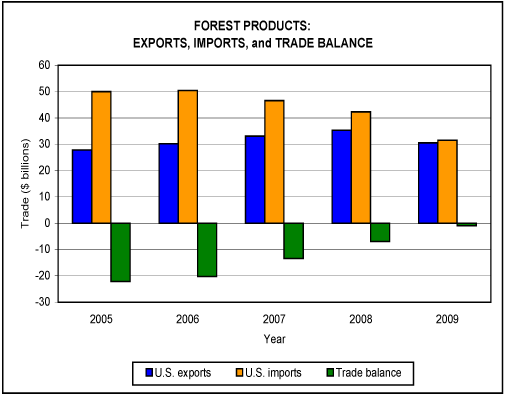 Key Economic Trends
The U.S. trade deficit in forest products declined by 85 percent in 2009, as a significant decrease in exports was more than offset by an even larger decline in imports. Continued weakness in the U.S. residential housing market and falling U.S. and global demand for paper played important roles in this trend.
U.S. imports of lumber, wood veneer and wood panels, and moldings, millwork, and joinery registered large declines in 2009, as a continued deterioration in the U.S. residential housing market reduced demand and prices for these products.
Lower levels of business and consumer activity in the United States during 2009 as a result of the recession led to reduced demand and lower prices for U.S. imports of printing and writing papers.
The worldwide economic downturn and consequent drop in foreign demand for paper and paperboard led to a decrease in U.S. exports of wood pulp and wastepaper, the raw materials used to make paper and paperboard. The economic downturn also caused an overall contraction in foreign manufacturing activity, which reduced demand for U.S. exports of industrial papers and paperboards, much of which are used in the packaging of manufactured goods.
Trade Shifts from 2008 to 2009
U.S. trade deficit: Decreased by $5.9 billion (85 percent) to $1.0 billion
U.S. exports: U.S. exports: Decreased by $4.9 billion (14 percent) to $30.5 billion
U.S. imports: Decreased by $10.8 billion (26 percent) to $31.5 billion
USITC Publications
Wood Flooring and Hardwood Plywood: Competitive Conditions Affecting the U.S. Industries, Pub. 4032, August 2008.
Developments in the Sourcing of Raw Materials for the Production of Paper, USITC Pub. 4101, September 2009.
Other Resources
American Forest & Paper Association