This site provides analysis, data, and information resources showing competitive aspects of U.S. merchandise trade trends on a country and sector basis.

Exports, Imports and Trade Balance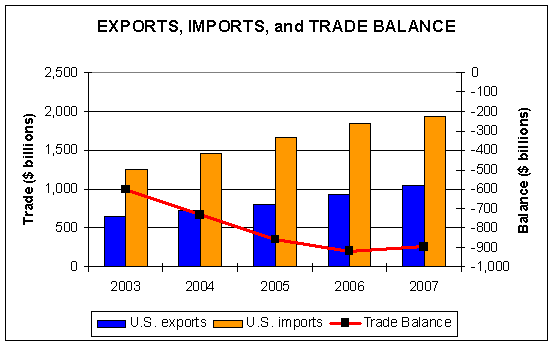 Key Economic Events
The depreciation of the U.S. dollar against currencies of major trading partners, real income growth in foreign trading partners, and slower U.S. real income growth increased the U.S. export rate and decreased the import growth rate, reducing the U.S. merchandise trade deficit.
In 2007, U.S. merchandise exports reached a record level with every sector except textiles and apparel experiencing export growth. The transportation equipment sector saw the largest increase in absolute terms, while chemicals and related products, agricultural products, and minerals and metals also saw significant growth.
U.S. merchandise imports increased in all sectors with the exception of forest products. Energy-related products saw the largest net import increase in 2007 due to higher world prices and increased demand in the energy sector.
Canada, China, Mexico, and Japan accounted for 60 percent of the U.S. merchandise trade deficit in 2007. China alone accounted for nearly 30 percent of the trade deficit, while the trade deficits with Canada and Japan declined.
Trade Shifts in 2007 from 2006
U.S. trade deficit: Decreased by 19.1 billion (2 percent) to $896.5 billion
U.S. exports: Increased by $116.9 billion (13 percent) to $1.0 trillion
U.S. imports: Decreased by $97.8 billion (5 percent) to $1.9 trillion
About this Report
Publication No. 4044
Investigataion No. 332-345
Date: December 2008